The 2005 Memorial Exhibit is a traveling memorial honoring the 17 Nevada individuals who were murdered by their intimate partners during 2005. The exhibit includes 17 T-shirts that are red and bear the name and story of a murdered individual. An 18th shirt represents the uncounted women whose deaths were unreported or unacknowledged.
The objective of the Memorial Exhibit is to raise awareness in our communities about the extent of domestic violence and to help connect people with resources for ending the violence in their lives. It is a powerful tool which silently speaks to the hearts of individuals who witness it. The Exhibit should be displayed at locations where the shirts will be treated with respect and honor. Suggestions for locations include: libraries, court houses, law enforcement offices, community colleges, post offices, and hospitals.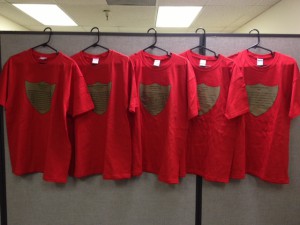 Each Memorial Exhibit kit contains:
18 red T-shirts
20 black plastic hangers
18 suction cups with hooks
6 portable clothes lines
1 regular 50′ rope
40 wooden clothes pins
1 pack of straight pins (80 ct.)
2 laminated signs
Call our office at 775-828-1115 to check the availability of the Exhibit. To request the Exhibit, please fill out the agreement form. Upon receipt of the agreement form, the exhibit will be mailed to you by the date specified in the form. If you are located in or around the Reno/Sparks area, you may come by our office to pick it up. You will be responsible for returning the Memorial Exhibit and all components of the kit back to us by the date indicated on the agreement form.