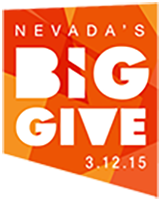 This year, NNADV is celebrating our 35th year of working towards the elimination of domestic violence in Nevada! You can help us celebrate this milestone by making a donation towards our goal of $3,500 during Nevada's Big Give on March 12, 2015.
The Nevada Network Against Domestic Violence is the statewide coalition of shelters and programs helping communities across the state meet the complex needs of domestic violence victims. Last year alone, we offered 46 workshops and trainings; distributed more than 27,000 information brochures, handbooks, and cards; made 44 site visits to member programs across the state; and, administered more than $1,000,000 in grants to fund hotlines, shelter, and advocacy programs. With your support, we can accomplish even more this year!
Our ability to work as a coalition has changed the way Nevadans think and act about domestic violence. Our mission is honoring the strength, bravery, and tenacity of survivors of domestic violence, and making sure that real options are available.
---